What can I expect?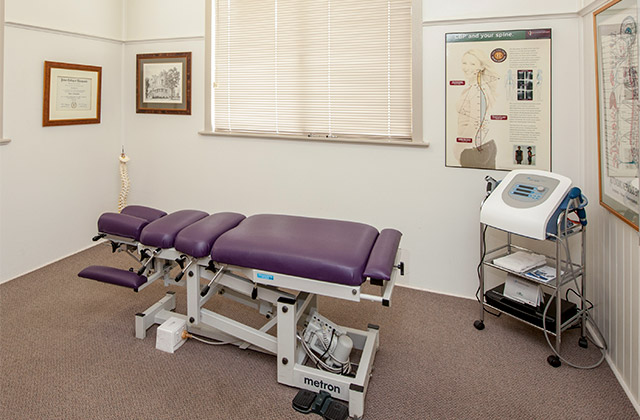 Chiropractic consulting room.
Once you have called, our helpful staff will make an appointment time which best suits you. When you arrive at our office you will be greeted in a friendly manner and we will make you feel at home.
You will be asked to fill in a two page Confidential Patient Case History form which helps us asses your current condition and then you will meet Dr Karen Rock. The purpose of your first consultation with Dr Rock is to discuss what troubles you and to see if chiropractic care can help you. The confidential Patient Case History is available on the Client Forms page (Password required).
If it looks promising, a thorough examination will help identify the cause of your problem. Where x-rays are necessary we will refer you to a local clinic. Not all patients require x-rays, and this depends on your situation. If you have previous x-rays, CT or MRI please bring them with you on your first visit. Patients appreciate that we are thorough and explain everything in advance.
On your 'report visit' we explain what we found and how we may be able to help you. Once we have all the information from your history, examination and x-rays (if we referred you for them) we will make recommendations which will best help you.
We call this visit the 'report of findings' and it is usually on your second visit. This two visit approach is done for several reasons. This approach:
Reduces the time of your first visit;
Gives us time to analyse your exam findings;
Avoids overloading you with too much information.
Exceptions are sometimes made to this approach - based on your unique situation and the professional judgment of Dr Rock.
The first and second visits are about 30 minutes each in length. Patients are occasionally concerned that the regular visits will be as lengthy as the initial two visits. This is not so. Once the important ground work is complete the regular visits require only a few minutes. Assessing the current condition of your spine and nerves, making specific adjustments and getting you on your way doesn't take long. As each visit builds on the previous missing an adjustment may delay your health outcomes.
We understand that most people have a busy life and time is valuable. That's why we work with you to make appointments that are best suited to your life so you can get the chiropractic treatment you need and get on with your busy life.
If you have a chiropractic related question, please submit it to the Pittsworth Chiropractic Centre via our contact us page.